Our Fees
Fimognari Financial is a fee-based financial planning and investment advisory firm. We charge a set fee for the services that we provide.
Our clients can hire us to create a financial plan for them and they may also hire us to invest and manage their assets.
If you hire us to manage your assets, you will pay an investment advisory fee based on the amount of assets invested.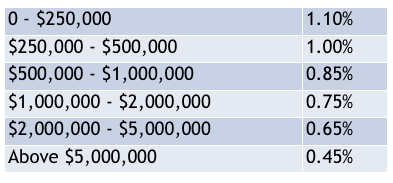 If you hire us to create a financial plan, our fee will range from $1,200 - $20,000 depending on factors such as the complexity of your plan.
The Financial Planning Agreement and/or the Statement of Investment Selection (SIS), each of which you will sign if you engage in a Financial Plan or open an Eagle account, will reflect your specific fees. For Advisory accounts, please note that additional Money Manager, Platform, 12b-1, and Expense Ratio fees may apply. You should reference Eagle's Wrap Fee or Firm Disclosure brochure, available at www.eaglestrategies.com/important-disclosures, for additional information on fees including how and when fees may change and the method of calculation.